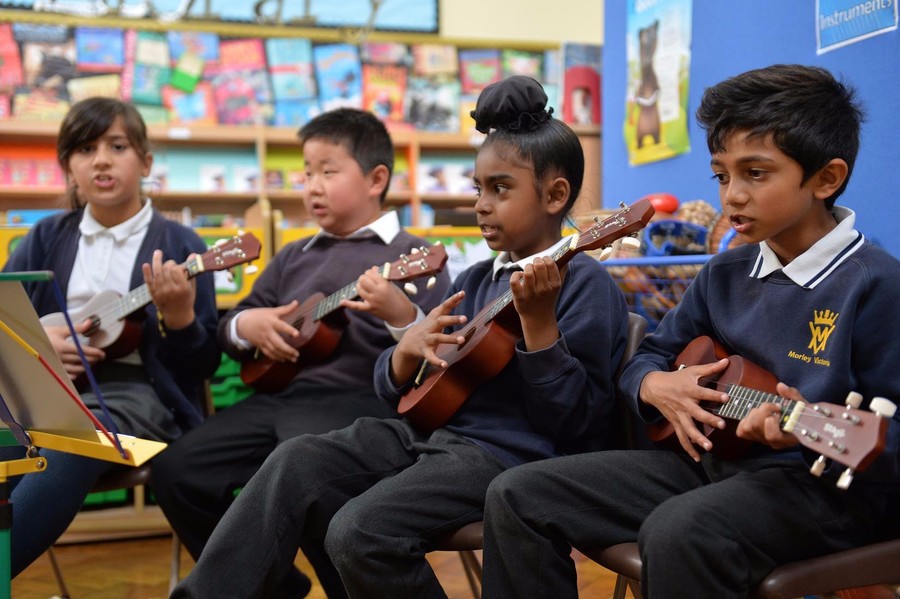 'Without music, life would be a mistake.' Friedrich Nietzsche
We are a very musical school and channel our pupils' creativity through music. Each week we have singing sessions with Mrs Smith either as part of an assembly or as part of a timetabled lesson. We follow the National Curriculum for music and do lots of work around music appreciation and enjoy listening to live music wherever possible. Music is a big part of our ethos and culture and we are very proud of our talents in this area.
Learning an Instrument
Providing instrument tuition is a popular way in which we enrich of our curriculum, whether it's part of our standard curriculum or an extra-curricular activity.
We have purchased some ukuleles so that all the children in Key Stage Two can have an opportunity to learn an instrument. This fantastic whole-class learning experience has many benefits: it helps children to develop confidence, concentration and coordination skills, self-discipline, communication and language skills alongside the National Curriculum for music, and not forgetting the sheer enjoyment of being involved in a musical activity.
For those wanting to learn violin, we also offer individual tuition organised and led by John Whiston a very talented musical tutor who has worked at the school for some time now.
Every year in school the children are given the opportunity to perform to an audience to showcase their talents and progress. Parents and carers really enjoy seeing their child confidently performing. The children are also encouraged to perform an instrument of their choice in assembly times if they have lessons outside of school.
Since for 2016 our Year 5 children have had the chance to play guitars. Each term they will have a series of lessons followed by a showcase of their talents at the end of each academic year.
Because instrument tuition is an extra service, there is a charge (unless your child is entitled to free school meals and where school receives pupil premium). Again, contact the office staff for more details on what tuition is currently on offer and the cost of this.
Singing
At Morley Victoria we make learning to sing an enjoyable experience for all children. Singing lies at the heart of our music curriculum and is something we are really proud of – we take every opportunity available to sing and perform to an audience. Our fantastic peripatetic pianist, Mrs Smith, is largely responsible for the success of our school in singing. She makes it an enjoyable experience and she ensures that the children are challenged at their age appropriate level through song choices. She encourages us to sing songs in certain ways depending on the mood, tempo, rhythm etc. Mrs Smith and the music co-ordinator work very hard to ensure that the material the children sing is diverse and covers all areas of the music curriculum.
Through singing songs, the children learn about the structure and organisation of different music styles. There is a lot of music terminology that Mrs Smith helps us to understand by working though it practically. The children also learn from listening to each other and critiquing each other's performances. There are many opportunities throughout the school year where the children in all year groups get to showcase how hard they have been working to improve their singing skills. There are also several opportunities for the children to sing in the local community – The Morley Music Festival, Morley has got Talent, St.George's Day Service, Young Voices and last year the Lunchtime Singers went to a service commemorating the centenary of The Battle of the Somme.