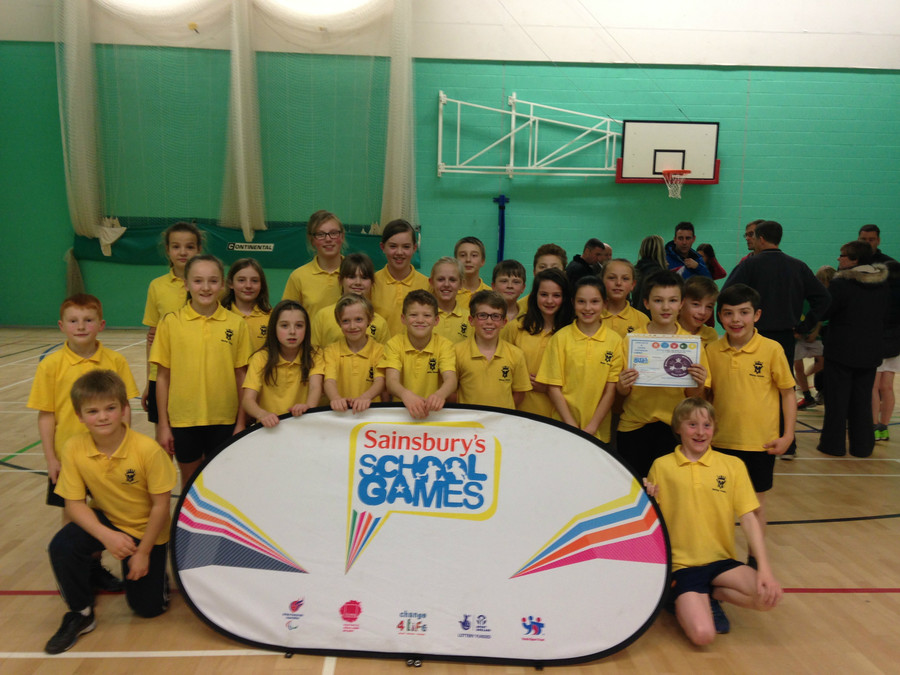 Summer 2017
We have had so many sporting events this term; we have tried to include the results of most!
All year groups have participated in a sports afternoon which was enjoyed by all. All of the children participated in a number of events and enjoyed competing against each other. A huge thank you to the older children who helped at Reception and Key Stage One events. The older children have also participated in the annual 10 Step award, this consists of 12 events to gain personal best scores that they try to improve on, year on year.
Total Dance
Total dance continue to run after school clubs for our children, these are enjoyed by all. The children have learnt street dance, Zumba and cheerleading routines which they showcased to parents. Total Dance also helped choreograph and practise our dance for the Jo Cox event. We have planned for them to come and work with the children and staff next year.
Swimming
Our Year 4, 5 and 6 children took part in a swimming gala at the John Charles Centre. It was a competitive event and the children did very well. Everyone tried their hardest and we showed real strength in the relay events. Overall we finished in 7th place.
Basketball
Two teams of boys and girls entered the Aspire Year 5 Basketball tournament. The children played four games, scored some excellent baskets and worked really well together in their teams, showing excellent passing and movement skills. Unfortunately, the teams were narrowly beaten in their games but we were very proud of their performances and attitude.
Cricket
Year 4 took part in a cricket tournament at Morley Cricket Club. It was a very warm day and there was strong competition from all schools. Our children showed great throwing and catching skills. We won 2 of the 3 games being beaten by the overall winners- Churwell. The children really enjoyed the event and some of them have now joined Morley Cricket Club as a result.
Under 9's Football Tournament
The team worked very hard and showed huge potential. They won every game in their group and were beaten in the final. Maybe we can win next year!
Under 11's Football – Morley League
This team have had a huge success, after winning the league they progressed through to the Leeds final – the first time ever at Morley Victoria. Unfortunately we were beaten in the final but we were very proud of the team – they are currently the second best in the whole of Leeds. As a result of their success they were also invited to The Yorkshire Games where they competed against the very best in Yorkshire.
Under 11's Football Tournament
The team put huge amounts of effort in and stayed motivated throughout which was great considering the torrential rain and the children being soaked through. The team played 3 games, winning 1, losing 1 and drawing 1. The team narrowly missed out on the semi- finals. Mr Dougal was extremely impressed with the team and proud of the effort they put into every game.
Bruntcliffe Sports
Yet again our athletics team were very successful when they competed in the annual Bruntcliffe Sports event. Our Year 4, 5 and 6 children came back with lots of medals.
Year 5/6 Tag Rugby
Mr Precious took a mixed Year 5 and 6 team to the Morley Rugby Club to take part in the Morley Rugby Tournament. In the morning the children got the opportunity to take part in skills activities which they could later apply into the game. Unfortunately, the team did not qualify through to the final however Mr Precious was very proud of the whole team.
Dodgeball
As a school, we play a lot of dodgeball but over the past few years we have been unlucky at the tournament at Birchfield. However, this year we saw a different result. Like every year we take a mixed team of boys and girls from Year 3-6. We qualified first out of our group, having not lost a single match. As a team, we showed fantastic catching and throwing skills and our ability to dodge the ball was brilliant. Unfortunately, the team were beaten in the final but showed fantastic sportsmanship at the end of the match. This is the best result the school have seen for a few years.
TSC after school clubs
Mr Rhodes is very busy every night delivering exciting clubs to all year groups within school. The children learn new skills that they can apply within P.E lessons. They get the opportunity to take part in games with different age year groups in school.
Sports Leaders
This year Miss Young started a new club for the Year 6s. It helped to give children the skills to become a Sports Leaders, so the focus was on communication, inclusion and organisation. The children were then given the opportunity to use these skills in the various sports days with the younger children. The children were given fantastic feedback from all adults and staff and will be a club that will definitely take place next year.
Running Club
Some of our Year 5 and 6 children have been attending a running club with Mrs Wood. Every week we try to increase our fitness levels and stamina to run a longer distance.
Netball Club
Mrs Cherry and Mrs Hughes have been working hard to improve their clubs netball skills. They have been pleased with the determination and enthusiasm the children have shown. Unfortunately the fixture they had planned this term was cancelled due to the bad weather so in the last week of term the children are going to take on the teachers!
Spring 2017
This is always a quiet term in the sporting calendar but we have so many events planned for the Summer term. Some events were cancelled this term due to bad weather.
Dodgeball
Our success continues in dodgeball! We took part in our cluster dodgeball competition. Both Year 6 teams reached the final and played each other! Mrs Bentley's class were victorious on this occasion.
The football season
It has been a very special season for the footballers. They have worked very hard as a team and have won the league. This is the first time this has happened since Mr Elstub has been Headteacher here. We are all very proud of the teams' achievement – it will go down in Morley Victoria history!
Athletics
In January our athletics team took part in the Leeds City final at Leeds Trinity University. They competed against some of the very best schools in Leeds. Morley Victoria came 4th out of the 250 schools that participated in the whole competition, well done!
Swimming and Basketball
We have these events taking place in the last week of term so the results will be posted on our Summer term review – good luck to all of those involved.
Total Dance
The children in Key Stage One and Key Stage Two have been working on their cheerleading skills this term. They have thoroughly enjoyed every session.
Running Club
Running club has started again. We are working on our pace and increasing our distance each week.
Sports Leaders
Some of our older children have become sports leaders. They are working with Miss Young to improve their leadership skills focusing on inclusion, organisation and communication. Next term they will be leading sessions for the younger children in school.
Autumn 2016
We have had so many sporting events this half term; it has been lovely to hear about how the teams got on in our celebration assemblies.
Football
Our year 6 children have played lots of football matches this term. They have worked exceptionally well as a team and have shown great resilience and skills on the pitch. They remain unbeaten; have scored a large number of goals and are currently top of the league. Mr Dougal is very proud of all the children involved. The league matches start again later in the spring term – let's hope we can remain at the top at the end of the season!
Year 2 took part in an ASPIRE football tournament. Both teams reached the semi-finals before eventually being knocked out. All of the children gave 100% effort and showed great sportsmanship.
Dance
Many of the children have participated in dance workshops this term which they have thoroughly enjoyed. Key stage one and two have also had chance to join an after school club on a Thursday – again this has been a real success.
Tag Rugby
A team of ten year 4 children went up to Morley Rugby Club to take part in this year's tournament. The team took part in lots of different drills and learned new skills to apply to their game. The team had a fantastic time and represented the school brilliantly. Unfortunately, they didn't qualify out of their group but enjoyed taking part in the fun, competitive environment.
Athletics
Our athletics team have worked very hard this term. Miss Young has been so pleased with their performance. They won the south Leeds heats by a mile! They then progressed to the South Leeds finals where they came second. This means that they have qualified to take part in the Leeds finals in January – good luck to them.
It is always lovely to hear about our children's achievements outside of school. If they wish to share any certificates or trophies, please send them in on a Monday for our celebration assemblies.